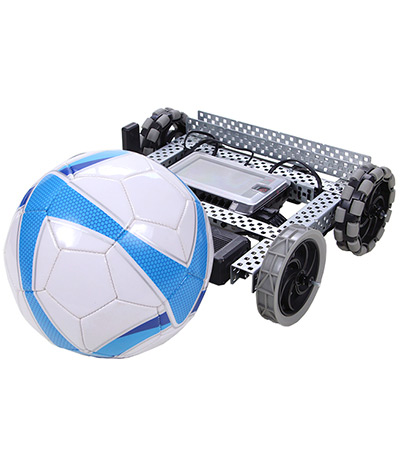 VEX Football is played on an 8 foot (2.44 m) by 16 foot (4.88 m) field by two alliances, each consisting of 2 teams.  In each match, two robots from two different teams will form an alliance to scores goals and defeat the opposing alliance.
As in the VEX Competition, a team will compete in a number of different matches with a randomly selected partner against two other randomly selected teams.  Alliance pairs will be assigned a color (red / blue) and should work collaboratively with their partner.  After all the matches have been played, the teams with the best record in the qualifying matches will choose an alliance and proceed to the final round.
This competition is designed as an introductory VEX competition; it is an entry level competition for teams working with the VEX control system.  Through participation in this competition, students will not only be working with the VEX EDR platform, but also experience some of the key elements and structure of the VEX Robotics Competition (VRC).
TEAM Specifications:
Maximum 3 team members.
Age: Born after May 1, 2004.  (VEX MS Level)
GAME Specifications:
Size of field: 4 feet by 8 feet (2.44 m by 4.88 m)
Size of ball: 4 inches in diameter;
Weight of ball: 50 grams.
ROBOT Specifications:
Platform: Exclusively VEX pieces and VEX control system (V5 or Cortex)
Motors: Maximum 3 if using V5 system; Maximum 5 if using Cortex
Dimensions: cannot expand beyond 14 inches x 14 inches x 10 inches
Robots will undergo inspection prior to competition. Robots designed or otherwise capable of physically damaging other robots will not be allowed; the intention of the game is to kick the ball, not incapacitate other robots.  Similarly, robots must be designed in a way to avoid injury to their sensitive components (for example, brain should be located in a central and protected area of the robot to avoid the risk of being damaged by another robot).  Finally, please note that robots cannot be designed to carry the ball, as this is international football, not American football!
Additional TECHNICAL Specifications for the game can be found here.